If you are actively trading in an iFlip Smartfolio and want to withdraw some (or all) of your funds from it, then please follow the simple step by step process below:
Step 1: Log into your iFlip app
Step 2: On the home screen you'll see a list of both individual stocks and Smartfolio's that you currently own (the cards that have a dark background are the iFlip Smartfolios. The cards with the white background are being manually traded by you)
On the mobile app your "owned stocks" are located on the home screen directly under the equity curve chart in the 'Algorithmic Smartfolio' section
On the web app, this is located on the right-hand side of your home screen in the "Owned Stock" section.
Step 3: Tap (or click) on the Smartfolio that you want to withdraw money from
Step 4: If you're on the mobile app select the yellow 'Trade' button at the bottom of the screen (skip this step if you're on the web app)
Step 5: Select 'Withdraw' as the method of transfer. On the web app this can be located on the right-hand side of the screen (see below).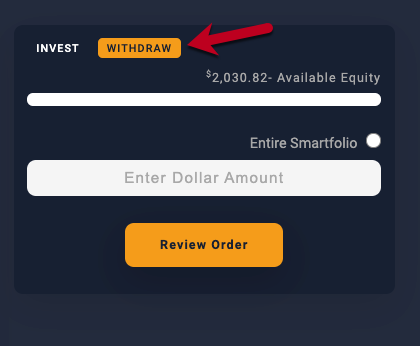 Step 6: Enter the amount you want to withdraw. If you want to withdraw all funds the select the "Entire Smartfolio" button.
Step 7: Select the 'Submit' button if you're on the mobile app, or the 'Confirm Withdrawal' button if you're on the web. That's it!
**Note: When you request to withdraw funds from a Smartfolio generally sell orders will need to be placed to create the cash to meet the requested amount. All Smartfolio trades are made on the open of every trading day at 9:30am (PST). Once a sell order is placed it will take 2-3 business days for the cash to fully settle before it converts into buying power or withdraw-able cash**